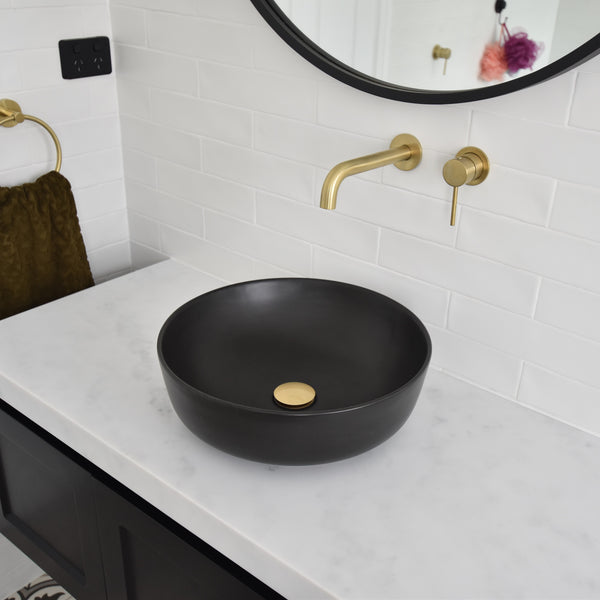 Dove 415mm Above-Counter Basin, Matte Black
Elegantly crafted, and the size is just right a variety colours to choose from.
Description
When you use a bathroom basin, you don't want water splashing outside of the sink.. That just creates a mess you need to clean!
But you can't have a basin too large, because the water will rarely reach the edges, causing "dust spottiness" around the perimeter of the basin, so you find yourself constantly needing to wipe it clean.
The Dove basin is really the size that isn't too small, and isn't too large.. It's just right!
Elegant and practical, its hardly a surprise this is one of the most popular basins available.
415mm diameter fits most standard size vanity tops. The round shape allows you to easily fit a tap at the 2 o'clock or 10 o'clock position. It also elegantly matches wall mounted tapware. Gentle interior curves ensure water will rarely "sit in place", keeping the Dove basin low maintenance. The generous 135mm depth is great for most things you need to do in your sink, such as washing your hands, washing your face, or brushing teeth.
Premium glazing ensures this basin will continue to please you, visually and practically, for many years to come  
Specification
Colours available:
Gloss White
Matte Black
Matte Calacatta Gold
Matte Carrara
Matte Cappucino
Matte Marquina Marrone
Matte Pink
Matte White
Details:
415mm (D) x 135mm (H) 
Above Counter 
Porcelain
Plug & waste sold separately
No tap hole 
No Overflow 
Size may vary slightly, as these basins are hand made.
**Please note basin dimensions are indicative only and sizes may slightly vary from the specifications and/or be subject to change without notice.**
What's Included
This product includes the basin, plug and waste is sold separately.
Caring For Your Basins
Due to the glazed surface of ceramic basins, scratches cannot be repaired or removed.
Ceramic is easily maintained on a day to day basis with warm, soapy water. You can also use any glass or ceramic cleaner for more effective routine cleaning. Deep cleaning is best done with specialty glass and ceramic cleaning product.
It is not recommended to clean your basins with any harsh product, such as bleaches and highly acidic cleaners. Long term use of these products is likely to cause damage to other fittings, such as the plugs and taps. Harsh cleaners may also tarnish some ceramic colours, causing them to lose lustre over time.

Delivery & Lead Time
This product ships within 1-3 business days. Lead time is approximately 3-7 business days to most metropolitan areas from dispatch date.  For regional or remote locations, or otherwise to WA, NT and TAS, lead times may vary. Please contact us if you need urgent delivery. 
Warranty & Returns
This product includes a 7 year product replacement warranty.
For warranties to be entertained products must be installed by a licensed plumber. 
Please choose carefully as this product cannot be returned for change of mind. Exchanges are permitted within 14 days of purchase if the product and packaging are in original condition. A 30% handling charge applies for all returns and exchanges. The customer will need to organise the returned goods to be sent or dropped off at our warehouse.
Reviews