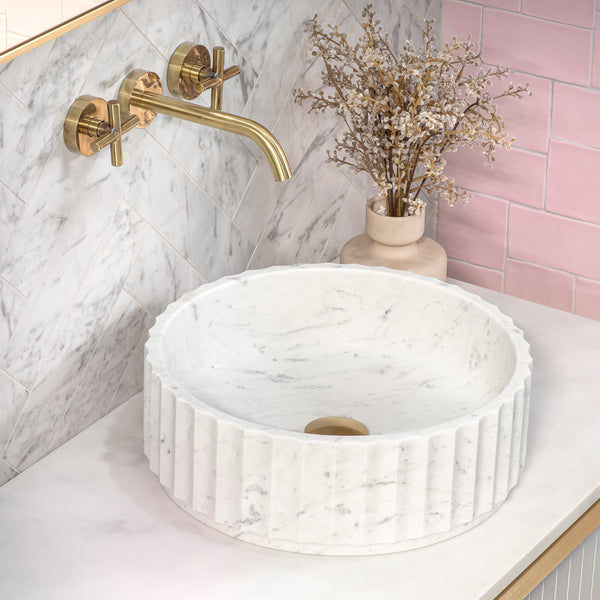 Kyklos Groove Round Fluted 395mm Above-Counter Marble Basin, Honed Carrara
The fluted design of the Kyklos Groove Round Fluted basin presents a captivating fusion of classic aesthetics and modern craftsmanship.
Description
Meticulously carved grooves encircle the basin's surface, creating an exquisite play of light and shadow that highlights its curvature. This artful texture adds a tactile dimension to the smooth marble, engaging both the senses and the eye. The combination of the timeless round shape and the intricate fluted pattern evokes a sense of sophistication and luxury. Whether as a functional fixture in a spa-like bathroom or as a statement piece in a grand foyer, the fluted round marble basin stands as an embodiment of refined beauty and design ingenuity.
Specification
Finish available:
Honed Carrara

Honed Nero Marquina

Details:
395mm (D) x 130mm (H)
Above counter basin 
Marble Basin

Plug & waste sold separately 
No tap whole 
No overflow
Pre-sealed, however sealing and proper care is recommended
Specifications above are not to scale - we do not recommend cutting basin hole in benchtop material until the basin is on site. Actual basin dimensions may vary.
**Please note basin dimensions are indicative only and sizes may slightly vary from the specifications and/or be subject to change without notice.**
What's Included
This product includes the basin, plug and waste is sold separately.
Delivery & Lead Time
This product ships within 1-3 business days. Lead time is approximately 3-7 business days to most metropolitan areas from dispatch date.  For regional or remote locations, or otherwise to WA, NT and TAS, lead times may vary. Please contact us if you need urgent delivery. 
Warranty & Returns
This product includes a 12 month warranty. For warranties to be entertained, products must be installed by a licensed plumber.
Please choose carefully as this product cannot be returned for change of mind.
Caring for your natural stone basin

Natural stone basins are beautiful, hewed directly from some of the planets most beautiful rocks. However natural stone is also porous, and requires careful maintenance over the years.
This basin is pre-sealed, however care should still be taken during installation to avoid contact with harsh chemicals that may be used during the building process. You may also re-seal the marble to improve the longevity. Re-sealing should be done before installation.
Do not use harsh chemicals for cleaning natural stone. This means no acidic, abrasive, or otherwise strong cleaners should be used. It is recommended to use simple routine cleaning product and soapy water to clean the marble basin. You can also use specialty cleaning product which is used specifically for natural stone, such as the products provided by Aquamix. Using specialty cleaning product should only be needed occasionally, routine cleaning can be done with regular (non-harsh) cleaning methods.
Reviews