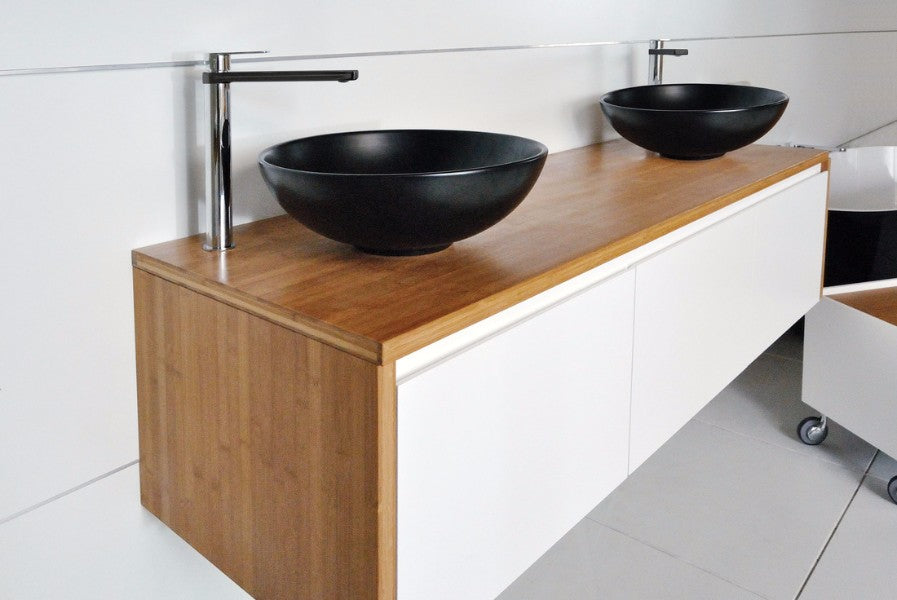 Bathroom Brands: 5 Names You Should Know
There are a few Australian bathroom brands that have almost reached household name status. Recognise the name Caroma, or perhaps Fowler? Chances are you do, because the little logo appears on many older toilets, so you may have seen one every time you needed to to the loo.
We all recognise the importance of a brand name, it is important that a strong bathroom brand delivers satisfaction and peace of mind. Over the last 21 years we have been listening intently to customers and seeing what bathroom brands have been consistent with their quality of product and promises. We hand-picked a few promising bathroom brands that have proven to be fantastic in their respective categories.
Aussie-Made Custom Bathroom Cabinetry: Timberline
Timberline does one thing really well: customisable cabinetry. Vanities, tall boys and shaving cabinets are their forte. They have a pretty diverse catalogue that's certainly worth picking up. They're serious about their quality control, warranties and design. You're going to be hard pressed finding any faults – minor or major – in the design, finish and workmanship of their products.
Unique and Well-Designed Bathroom Products: Enflair
Perhaps the most exciting brand we have seen in a while is Enflair. Attention to the little details is important, and these guys do it well! For example they introduced:
A shaving cabinet with shelves that couldn't accidentally be knocked off and an anti-spill finish so you don't need to worry about liquid spills.
Mirrors with the most colour accurate reflection we've ever seen, there's less of the typical "green tint" visible in most mirrors
Well designed vanities with some premium finishes and features at affordable pricing
Stylish and functional basins in a variety of coluors and material, including artificial stone (cast solid surface).
Bath tubs galore, in a mix of sizes and designs, including LED illuminated bath tubs
Their bathroom vanities have all the little improvements you'd want at an affordable price and the bath tub and mirror options are unmatched. If you're looking for the latest trendy products, with designs that will make you wonder how you haven't already bought it, Enflair is the brand to watch.
Stand-out Vanity Designs with a Premium Look: Rifco
They've been around since 1975, and have learned how to make some nice vanities in all this time. Rifco has been consistently innovating in the more challenging aspects of bathroom furniture design, using products such as concrete, cement and timber. Usually if you want the type of vanity that makes everyone question where you got it from, Rifco is the brand to shop for. They've been consistently able to produce designs that are difficult, such as curved edge vanities and one piece moulded concrete tops.
Showers & Fixtures Made Well: Con-Serv
Con-Serv has a variety of products to match you bathroom tapware, and the most interesting is certainly their showers. The showers are well made, really well made. For a reasonable price, you can get a twin shower system with an easy to adjust hand piece and a very premium build, that is less prone to wear and tear.
Some of our team have Con-Serv showers in their homes that are 12+ years old and they look and function much better than most showers do at a quarter of their age.
We also think their products for care applications are the best we have seen. Its nice to see the effort that goes into the grab rails, shower chairs and other accessories that are designed for the elderly or less mobile.
Toilets: Geberit
Possibly the main thing that can go wrong in a bathroom is the toilet. When you install a toilet, you don't want it to have issues later on. I mean, we want toilet problems out of sight, out of mind don't we? Geberit is the last in this list, but certainly not the least!
Our culture loves minimalism in design when it comes to toilet sanitary ware, pretty much saying "leave the fancy toilet features and functions to the Japanese", unless of course, it helps us clean it easier. Geberit focuses on what's important to Australians and that's why they have been so well received.
With a 15 year warranty on the popular sigma8 cisterns, the Geberit brand is the one to choose for a reliable flush.
We really like Geberit. They're so good at doing [concealed] toilet cisterns, that's pretty much all they need to sell in Australia. You can also find their internal mechanisms in a lot of 2 piece toilets. Not sure if the toilet you're interested in uses Geberit? Just ask! The Swiss company exemplifies the attention to detail and design that the country is famous for. Our customers like Geberit so much we're including them in this list despite the fact that they do such a niche and specific product line. Just add a pan of your choice and voila, you have an amazing toilet!