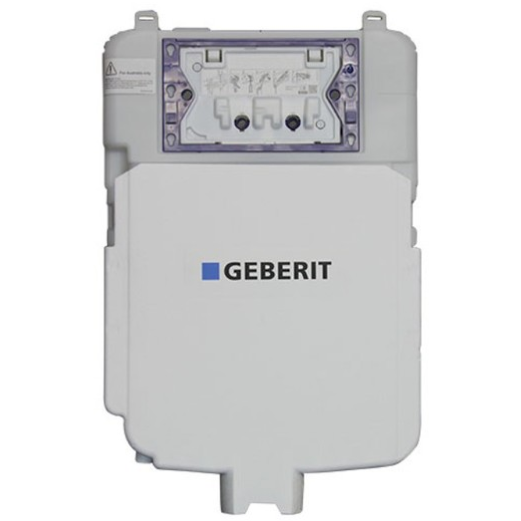 Geberit Sigma8 Concealed In-Wall Cistern
Bundle this item with a toilet pan and buttons for a complete unit.
In stock for same day pickup for orders placed before 2pm.
Description
Sleek, attractive, and most importantly, functional. Your in-wall toilet cistern needs to be reliable with minimal maintenance and fuss. The Geberit Sigma8 has set the benchmark for how reliable an in-wall cistern can be, and is the best in-wall cistern you can purchase today.
80mm thick, designed to fit between standard 90mm wall studs
Built to last, with easy access from the front, even after installation.
Leak-proof high density, impact-resistant one-piece blow moulded HDPE tank.
Dual-flush plate provides access for servicing the internal parts of the cistern.
Suitable for S or P trap back to toilet pans.
Freedom to choose over 30 flush button designs available in Australia.
Ensure you purchase your in-wall cistern well before your project starts, as it is one of the first items required
Specification
Compatible with all wall faced toilet pans
Compatible with all Sigma buttons
Operating pressure 10-1000kpa.

Fits standard 90mm walls.
For wall hung toilet suites, you will need to purchase the Geberit Sigma 8 Duofix, which includes a frame
WELS 4 star 4.5/3L dual flush or WELS 3 star 6/3L dual flush
WELS Registration L05087
Installation
This item may require a licensed plumber for installation, in accordance with the laws and regulations of your local area. For a demonstration on how to install, please click here.
Pickup and Delivery

This item is available for same day pickup, when purchased before 2pm. Orders placed after 2pm will be prepared for next day pickup from 9am. If you have special requests, please contact us.
This product dispatches for delivery within 1-3 business days from date of order placed. Shipping times may vary with location, major city metropolitan addresses generally receive a delivery within less than 2 weeks from dispatch. Regional delivery times may be longer.
Warranty & Returns
15 Year warranty on tank and frames
3 years on internal components
25 years spare parts availability
This item cannot be returned once purchased. Please choose carefully.
Reviews