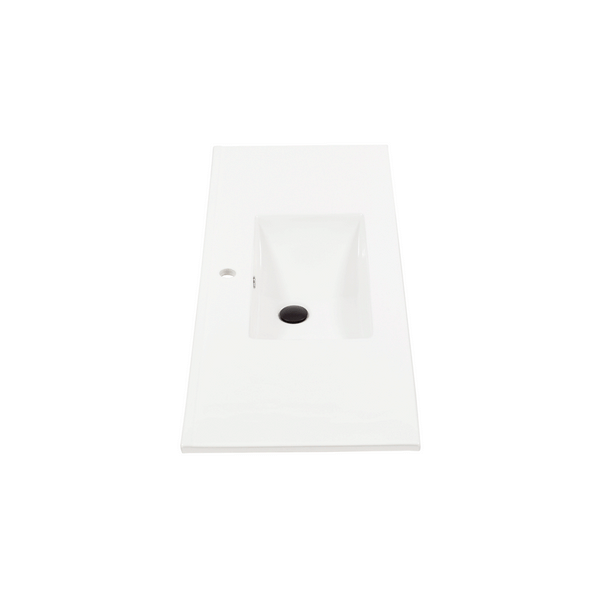 Una 1200mm Vanity Top with 1 Tap Hole | Gloss White |
Elegantly crafted, with an integrated basin
Description
Cleaning around the bathroom sink is very time consuming.. You don't want to constantly be wiping down the sink, or investigating its corners and edges for dirt build up!
The Una top is a simple one piece vanity basin top, with minimal ridges and edges for grime to collect. Its the ideal top for someone who wants a low maintenance bathroom vanity.
Specification
Compatible with most standard depth vanity cabinets with approximately 440-460mm depth
Made from porcelain, please allow for natural variations in the finished product specifications with a size tolerance of approximately 2%
Quality glazed surface ensures you're spending less time cleaning, whilst getting a good lifetime out of the sink
Includes integrated over-flow to prevent flooding
Recommended to be used with the Dome Universal Pop Wastes
Available Sizes:
600mm Single bowl with 1 Tap Hole
750mm Single bowl with 1 Tap Hole
900mm Single bowl with 1 Tap Hole
1200mm Single bowl with 1 Tap Hole
1500mm Single bowl with 1 Tap Hole
1500mm Double bowl with 1 Tap Hole
May also be purchased without a tap hole, please contact us if you need this option.
What's Included
This product includes the basin, plug and waste is sold separately.
Caring For Your Basins
Due to the glazed surface of ceramic basins, scratches cannot be repaired or removed.
Ceramic is easily maintained on a day to day basis with warm, soapy water. You can also use any glass or ceramic cleaner for more effective routine cleaning. Deep cleaning is best done with specialty glass and ceramic cleaning product.
It is not recommended to clean your basins with any harsh product, such as bleaches and highly acidic cleaners. Long term use of these products is likely to cause damage to other fittings, such as the plugs and taps. Harsh cleaners may also tarnish some ceramic colours, causing them to lose lustre over time.

Delivery & Lead Time
Oversized item - delivered to your nearest depot. You will require a ute, trailer or flatbed truck to collect from the depot. For home delivery, please contact us to arrange a quote. Additional charges apply for home deliveries.

This product ships within 1-3 business days. Lead time is approximately 5-10 business days to most metropolitan areas. Regional or otherwise remote areas may take longer. Please contact us if you need urgent delivery.
Warranty & Returns
This product includes a 12 months manufacturers warranty
For warranties to be entertained products must be installed by a licensed plumber. 
Due to the large size of the product, high risk of damage in return freight and the difficulty with re-packaging once checked on delivery, we do not accept returns for this type of product. Please choose the size you need carefully.
Reviews