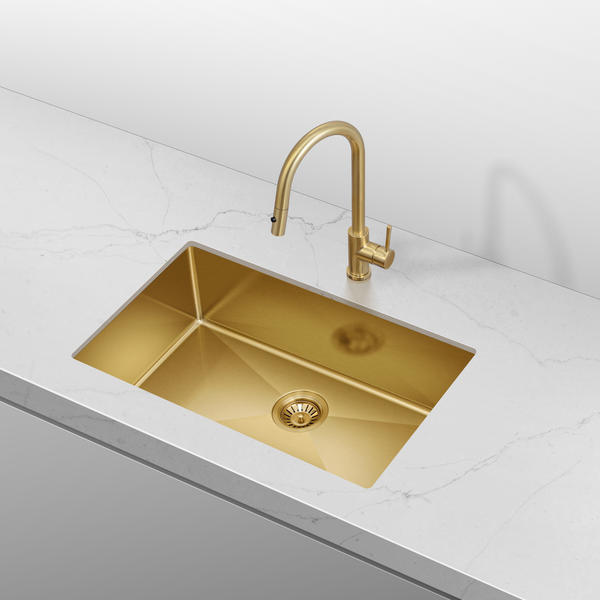 Retto 750mm x 450mm x 230mm Stainless Steel Sink | Brushed Brass (gold) |
FREE* Shipping to metro locations
Retto 750mm x 450mm x 230mm single sink in PVD brushed brass (gold) finish.
Includes free sink grid in matching colour with every purchase.
Shop the range of Retto sinks (12 sizes available) by clicking here.
You may shop the kitchen sink mixer in the photo by clicking here.
Description
Your kitchen sink needs to look good, be great to use and have the best longevity.
The Retto has been our top pick, offering excellent value and quality of workmanship, and has had a product refresh for 2022
-
With the Retto sink collection, you get a sink that is both effortlessly elegant and stands the test of time.


Resist long term wear and tear, and the chances of scratching, with a premium PVD brushed nickel finish
Easily clean, and prevent mess collecting in spots it shouldn't, with soft radius corners and a gentle brushed finish making for an easy cleaning experience
The sink will sound as good as it looks, with premium installed sound deadening pads showcasing the high quality workmanship
Protect your sink from scratches! You get a free grid included with every Retto sink
Specification
Details

Premium 304 stainless steel make
No tap hole
No overflow
Universal Installation: may be installed as under-mount, over-mount or flushline
Please note due to the handmade nature, this product may vary in slightly in size from the specifications provided. We recommended cutting the stone for the sink only once the sink is available on site for your stonemason.
-
Sizes available:
290mm x 450mm x 230mm Single Sink
390mm x 450mm x 230mm Single Sink
450mm x 450mm x 230mm

 

Single Sink

550mm x 450mm x 230mm

 

Single Sink

550mm x 450mm x 300mm

 

Single Sink

650mm x 450mm x 230mm Single Sink

675mm x 450mm x 230mm Sink and 1/2 

750mm x 450mm x 230mm Single Sink 

850mm x 450mm x 230mm Single Sink with Drainer

875mm x 450mm x 230mm Double Sink

770mm x 450mm x 230mm Double Sink
1190mm x 450mm x 230mm Double Sink with Drainer
What's Included
Kitchen sink
A waste and strainer for each hole
One

sink 

grid
Lead Time
This product ships within 1-3 business days. Lead time is approximately 3-10 business days to most metropolitan areas.  For regional or remote locations, or otherwise to WA, NT and TAS, lead times may vary. Please contact us if you need urgent delivery.
Warranty & Returns
This product includes a 25 year lifetime warranty for all manufacturing defects.
Returns are not accepted for this product, so please check the sizes carefully before ordering.
Reviews