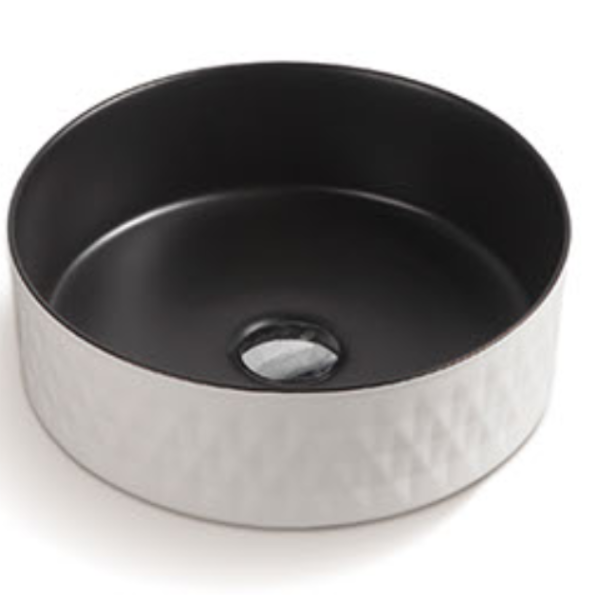 Kahm White & Black Above Counter 360mm Basin | Matte |
Beautiful slim design
Specification
360mm (D) x 120mm (H)

Above counter basin

Ceramic 

Plug & waste sold separately 

No tap hole 

32mm no overflow waste

Size may vary slightly, as these basins are hand made

Specifications above are not to scale - we do not recommend cutting basin hole in benchtop material until the basin is on site. Actual basin dimensions may vary. 
**Please note basin dimensions are indicative only and sizes may slightly vary from the specifications and/or be subject to change without notice.**"
What's Included
This product includes the basin, plug and waste is sold separately.
Caring For Your Basins
Due to the glazed surface of ceramic basins, scratches cannot be repaired or removed.
Ceramic is easily maintained on a day to day basis with warm, soapy water. You can also use any glass or ceramic cleaner for more effective routine cleaning. Deep cleaning is best done with specialty glass and ceramic cleaning product.
It is not recommended to clean your basins with any harsh product, such as bleaches and highly acidic cleaners. Long term use of these products is likely to cause damage to other fittings, such as the plugs and taps. Harsh cleaners may also tarnish some ceramic colours, causing them to lose lustre over time.

Delivery & Lead Time
This is a special order please allow a lead time of up to 7 - 14 working days for most metro areas.
Warranty & Returns
This product includes a 10 year product replacement warranty.
For warranties to be entertained products must be installed by a licensed plumber. 
Please be advised that there are no returns on this item as it is a special order. 
Reviews