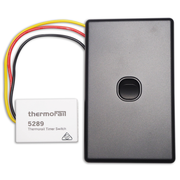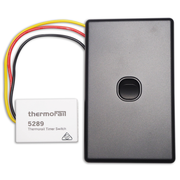 Own it now, pay later with
A timer allows for controlling of your heated bathroom towel rails so that you can simply set you schedule and forget, whilst experiencing warm dry towels.

The Eco Timer is a simple timing device designed to go behind the white switch plate provided. The timer operates on a 12 hour schedule meaning it will be on at the same time morning and evening each day of the week. The programmed timer can be selected for a period from 1 to 11 hours and three heat settings can be selected: 50%, 75% or 100%.

The timer is operated using the switch, when you turn the timer on it will start to beep, each beep represents one hour, if you want the rail on for 4 hours wait for 4 beeps, switch the timer off and then back on again and it will do another 4 beeps to confirm it has been set for 4 hours. The rail will come on at the time you set it eg 4pm for four hours and then again at 4am for four hours. The Eco Timer is a very cost effective and simple to operate option although it doesn't offer the same user flexibility as a programmable timer.
Supply Voltage: 230–240V AC 50Hz Class II
Mounting: Independently Mounted /Suspended by wiring
Maximum Load 1A
Type of Action Type 1.Q
IP Rating IP30
Operating Time Variable 1-12 Hours
Pollution Degree II
Size W49 x H35 x D27
No. of Cycle 1
Colour White
PTI 175
Complies To IEC60730-2-7:2015
Rated Impulse
Voltage 4000Volts
Operating Period Continuous
BPT 125°C
GWT 850°C
Ambient Tmin: 0°C, Tmax: 55°C
This is a non stocked item that needs to be ordered in. Lead time is 5-10 business days to prepare and dispatch. Once dispatched lead time is approximately 3-7 business days to most metropolitan areas. Regional or otherwise remote areas may take longer. Please contact us if you need urgent delivery.
1 Year Warranty
Warranty claims need to be put through Thermogroups online form. The form is checked by Thermogroup and they will reply by written communication. 
Change of mind returns are not accepted for this product, so please check carefully before ordering.