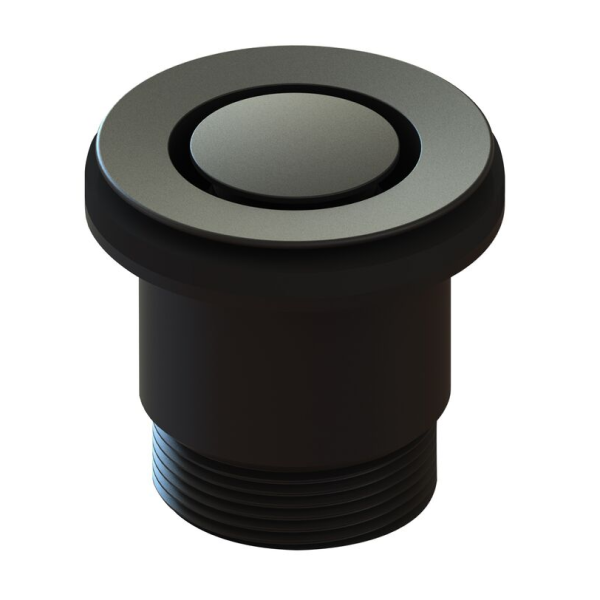 Premium Bath Pop Down Waste, Universal 32mm and 40mm Installation, Compatible with Overflow and Non-Overflow | Matte Black |
Imagine you never had to worry about hair stuck in the bath waste again, or problematic spring actions that wear and rust over time.
Maybe you want a product that provides a proper seal, and doesn't leak through water when the sink is supposed to be plugged?
Well, there is a solution that does just that..
A tiny investment in your new bathroom for a major improvement in your quality of life!
The pop down waste is a premium finish product that lives up to its namesake, popping down to plug your bath, or popping up to allow water to flow freely.
You can completely remove the plug, should you wish to clean out any stray hairs (or want faster drainage), and there's no grill/bars for things to awkwardly get stuck to.
The unique design ensures you have an elegant look in the sink with a flush finishing button and detachable component for the easiest cleaning experience.
The pop down waste has universal installation capability, which means that this waste is compatible with all vanity basin sink waste sizes and can accommodate for overflow or no overflow design.
This type of product is for anyone who wants a better cleaning experience in their new bathroom.
-
Available as:
Vanity sink pop down waste
Bath tub pop down waste
- 
Available colours:
Bright Chrome
Brushed Brass (Gold)
Brushed Chrome
Brushed Gunmetal Grey
Brushed Nickel
Brushed Rose Gold
Matte Black
Matte Gunmetal
Polished Gold
Polished Rose Gold
Satin Chrome
-
Nitty Gritty:

Watermark approved
Universal overflow/no overflow compatibility
Compatible with 32mm or 40mm sink outlet sizes
Suitable for use as vanity plug and waste, for bath tubs, please use the equivalent bath pop down waste
Lifetime replacement warranty on cartridge
Reviews