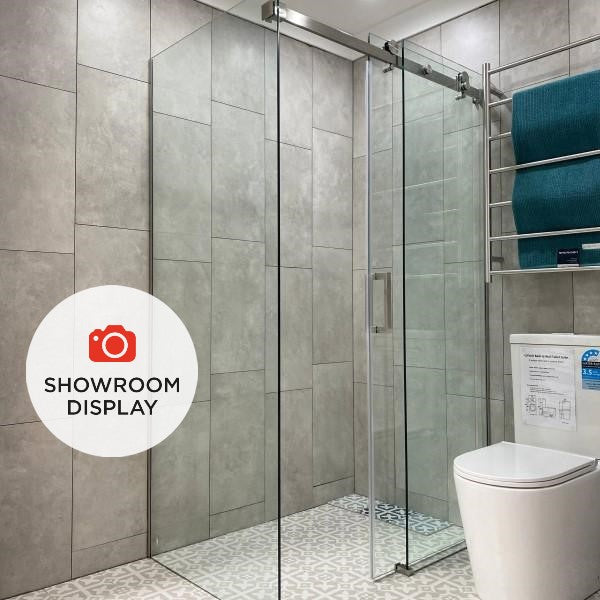 Rio Frameless Shower Screen with Sliding Door | Brushed Nickel |
Description
Elegant to look at, easy to install and available in the colours you need! The Rio frameless glass shower screen with sliding door is a work of art.
Once a staple of smaller bathrooms, the advent of frameless design and the practicality afforded by premium hardware has resulted in shower screens with sliding doors looking great (and being practical) in every bathroom!
You may install this shower screen between two walls or as part of an enclosure with a fixed return panel installed perpendicular.
Specification
The door component consisting of two panels is slightly adjustable for each kit size, available sizes are below:
Adjustable between 1180mm - 1230mm
Adjustable between 1230mm - 1300mm
Adjustable between 1300mm - 1450mm
Adjustable between 1450mm - 1650mm
Adjustable between 1650mm - 1800mm
Adjustable between 1800mm - 2000mm
Also available with sizes adjustable over 2000mm up to 2500mm, please contact us if you need this option
The return panel is not adjustable, some standard sizes are offered, or order a custom size that you need (please allow up to 10 days extra for custom sizes).
800mm Fixed Panel
900mm Fixed Panel
950mm Fixed Panel
1000mm Fixed Panel
1050mm Fixed Panel
1100mm Fixed Panel
Please contact us if you need a custom size not offered as standard
The overall height of the shower screen is 2000mm
You can choose your preferred colour for hardware fittings, the following colours are available:
Bright Chrome
Brushed Brass (Gold)
Brushed Nickel
Matte Black - Electroplated Finish
Matte Gunmetal
Product Features:
10mm toughened safety glass with premium brass and stainless steel hardware
Heavy duty roller and frame work
Meets Australian Standards AS1288 Glass in Buildings
Installation
Please allow a standard lead time of approximately 5 days, and approximately 15 days if any custom sizes are required. Should you need the screens urgently, please contact us at (02) 9621 1477 to expedite the process for you.
Optional Installation is also available on request. Installation costs may vary and are subject to site conditions and additional requirements (such as removal of previous shower screen)
What's Included
Warranty & Returns
7 Years warranty
1 Year warranty on hardware
This is a special order item. Please choose carefully as we do not accept returns, exchange or refund for change of mind or incorrect size purchased.
Reviews
Good solid product
The frame was quite easy to install good quality nice think glass