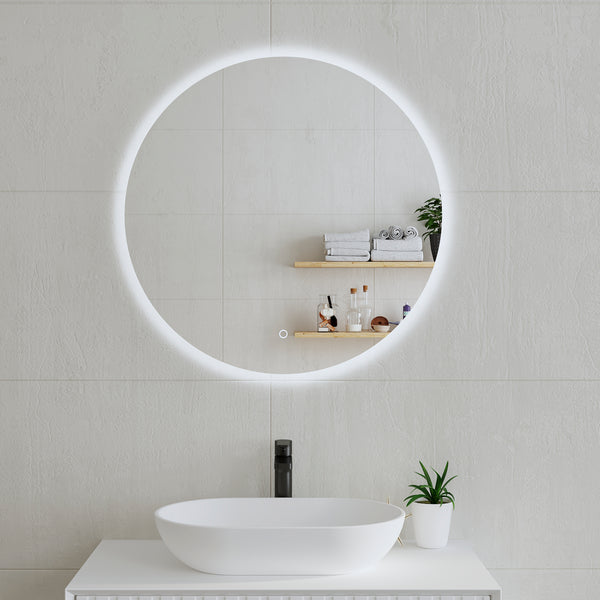 Circa Round 750mm Backlit LED Mirror with Polished Edge and Demister
Refined and simple. This Round Dimmable LED mirror is designed with style to suit your bathroom vanity. 

Description
The Circa Round Backlit LED Mirror can make a great accent piece to your bathroom or any part of your home.
Do your make up or shave easily, no matter how steamy your bathroom is, with the factory fitted de-mister!
The lighting may be adjusted from warm light 3000k to daylight 6000k by using the button at the front of the mirror.
Features:
A crisp, polished edge (approx 5mm thick)
See yourself in the reflection better with our most colour accurate mirrors ever! Expect 12% higher colour accuracy than other bathroom mirrors with substantially less green tinge
Premium build quality with premium parts
Copper free and strongly rust and corrosion resistant, built to last long in a high moisture environment
Includes bracket and fixings for a simple installation.
Suitable for use anywhere in the house, built to perform in a bathroom
Specification
Available Sizes:
600mm Diameter
700mm Diameter
750mm Diameter
800mm Diameter

900mm Diameter
1000mm Diameter
1100mm Diameter
1200mm Diameter
For detailed specifications of each size, click here.
Details:
Installed via hanging with the supplied brackets and fixing kit
Voltage: 220-240V
Frequency: 50Hz

D

immable 

Light: Cool Light 6000K & Warm Light 3000K
Anti-Fog (built-in

 

demister

 

pad)
What's Included
The mirror is included in the box, protected with padding and packaged well to prevent damage in transport.

Delivery & Lead Time

This product dispatches within 1-3 business days, for large orders please allow additional dispatch time. Lead time is within 5-10 business days to most metropolitan areas. Regional or otherwise remote areas may take longer. Please contact us if you need urgent delivery.
Additional costs apply for shipping to regional locations.
Warranty and Returns

This product includes a 2 year warranty on manufacturing defects. 
Returns are not accepted for this product, so please check the sizes carefully before ordering.
Reviews