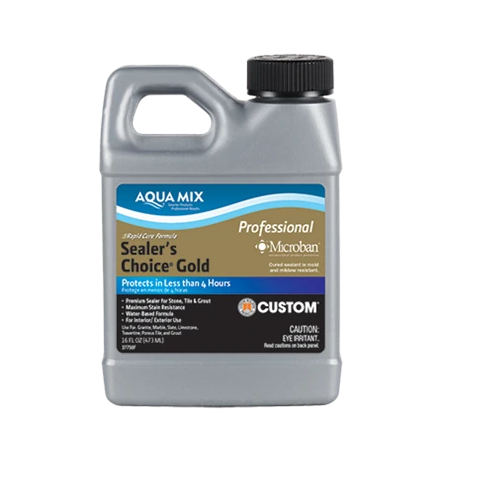 Aquamix Sealer's Choice Gold - Rapid Cure I 473ml - 18.9L
Sealer's Choice® Gold – Rapid Cure is a premium grade, high performance penetrating / impregnating stone, tile & grout sealer. It is a low VOC, water based sealer formulated to provide maximum stain protection, especially in food preparation and serving areas. Ideal for all interior and exterior natural stone, tile & grout surfaces. This premium sealer also includes built in Microban® – Cured Sealant is Mould & Mildew Resistant, and this sealer last up to 15 years.
KEY FEATURES:
SUITABLE FOR USE:
As a natural look sealer for all natural stone surfaces (such as sandstone, slate, quartz, marble, limestone, granite, bluestone / basalt) unglazed tiles, polished & unpolished porcelain tiles, clay pavers, polished & unpolished concrete, terrazzo, brick, masonry, encaustic tiles terracotta and grout. Suitable for both interior and exterior use.
APPROX. COVERAGE M² PER/L:


LIMITATIONS:
Do not allow sealer to come in contact with any non-recommended surface.
If product is allowed to dry on surface, a white film may form. If this occurs, scrub with

 

Aqua Mix® NanoScrub® and a white nylon pad.
Sealer will not prevent surface wear or etching from acids or caustic chemicals.
Reviews