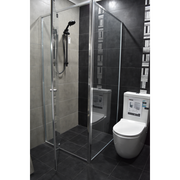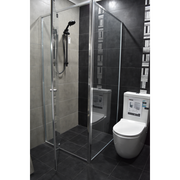 Own it now, pay later with
Easy to install and leak resistant, this is a popular shower screen with a pivoting door. The door panel is reversible and can hinge from the right or the left, and adjustable up to 130mm or 170mm, the fixed panel (return panel) has up to 20mm adjustability.
Designed to be flexible and form-fitting. Various size options available from 770mm to 1570mm. Please contact us for purchase.
Door Panel can be installed as a wall to wall shower screen, for this option, select "No Return Panel"
Door Panel Sizes:
Adjustable 770mm - 900mm
Adjustable 870mm - 1000mm
Adjustable 970mm - 1100mm
Adjustable 1070mm - 1240mm
Adjustable 1170mm - 1340mm
Adjustable 1270mm - 1440mm
Adjustable 1370mm - 1540mm
Return Panel Sizes
780mm - 800mm
880mm - 900mm
980mm - 1000mm
1080mm - 1100mm
Colours Available
Chrome (all sizes)
Matte Black (870mm - 1000mm door and 880mm - 900mm Return panel only)
Please choose carefully as we do not accept returns, exchange or refund for change of mind or incorrect size purchased.