4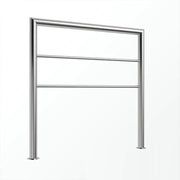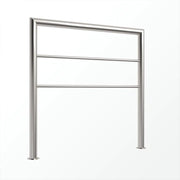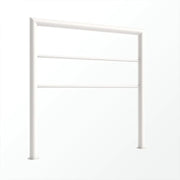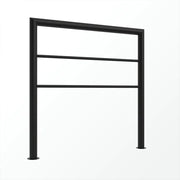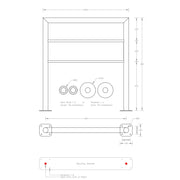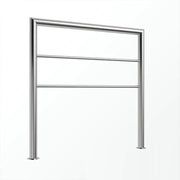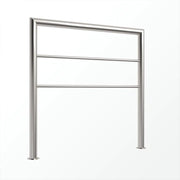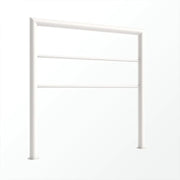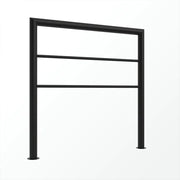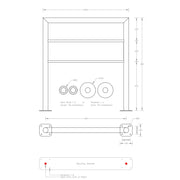 Own it now, pay later with
Provides for a beautiful heated rail solution in a free standing bathroom setting. Designed to have hidden floor fixings (under tile - as shown) or can be mounted on the floor surface by usingthe supplied rosettes (not shown).
Fixing system can be installed above or below tiles
Can be installed without flanges
Ultra safe 24V SELV Transformer (Supplied)
Safe to be installed in Zone 1 (Wet areas)
Concealed wiring standard through either footing
Installing a timer will prolong product life and save energy
24 Volts, 66 Watts
900mm (H) x 830mm (W) x 50mm (D)
IPX5, Low Voltage
AS/NZS 60335.2.43, CE, FCC
Concealed Wiring std - any leg
30minutes heating time
Product should be inspected for surface damage prior to installation. Cleaning and handling of all finishes must be performed carefully. Clean products using a soft cloth with warm soapy water only. Never use harsh detergents or abrasive cleaners as these will damage the product.
Water marks can be removed from Matt Finishes with an application of a carnauba wax based non-abrasive polish on a microfibre cloth. Do not use undue pressure when cleaning and wipe in one direction only.
Contact with harsh chemicals such as hair dye, hair bleach etc will result in damage to the finish. Avoid the use of wax based furniture creams as this can result in a build up of deposits which will detract from the appearance.
Damage to finishes arising from improper installation or post installation use or failure to observe the above care and cleaning instructions will void all warranty agreements.
This is a non stocked item that needs to be ordered in and is custom made to order. Chrome/ Brushed Nickel are 5-10 days to dispatch, matte black/ matte white are 45-55 days to dispatch.
Once dispatched lead time is approximately 3-7 business days to most metropolitan areas. Regional or otherwise remote areas may take longer. Please contact us if you need urgent delivery.
10 Year Warranty
Installation Labour: Any applicable removal or re-installation labour, is covered for the first 12 months only.
Serviceable Parts: Serviceable parts like pump dispensing mechanisms, electrical timers and transformers, are covered for the first 12 months only.
Heated Rails Timers: A timer MUST be fitted to prolong the life of the heating elements and the transformer - Transformer warranty is VOID if no timer is installed.
Special Finishes: All finishes, including painted, electroplated or PVD are covered for 2 years. This excludes "Living Finishes" like raw brass or copper, which, by their nature will change over time, cannot be warranted.
Installation Issues: Warranty explicitly excludes installation issues - if you need assistance installing any Avenir product, contact 02 9476 6917 for assistance over the phone. Onsite assistance not available. 
Change of mind returns are not accepted for this product, so please check carefully before ordering.